With songs, original poems, youngsters shine at Bethlehem NAACP banquet
Bethlehem's NAACP chapter recognizes Liberty High School principal on her retirement.
By Milton D. Carrero, Of The Morning Call11:31 p.m. EST, February 19, 2012
Ashanti Littlejohn's poetry earned her a standing ovation from the audience.
"I shall continue smiling, I shall not change who I am," the Freedom High School student read from her original work.
Littlejohn was among the youth who wowed the nearly 200 people who gathered Sunday for the annual Bethlehem NAACP Freedom Fund Banquet at the Four Points by Sheraton Hotel in Hanover Township, Lehigh County.
The program celebrated the milestones that the National Association for the Advancement of Colored People has earned since its inception more than a century ago.
Special recognition was given to the winners of this year's NAACP Afro-Academic, Cultural, Technological and Scientific Olympics, several of whom performed during the event.
Littlejohn and Rachel Anson impressed the audience with their songs and original poems.
Anson, of Liberty High School, delivered a heartfelt rendition of Josh Groban's "You Raise Me Up" that brought goosebumps to several NAACP members.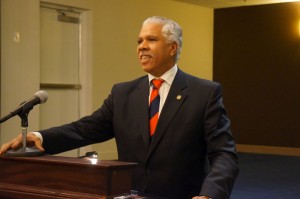 Hilary O. Shelton, director of the NAACP Washington Bureau, was the event's keynote speaker. But before he took the podium, organizers recognized Liberty High School's principal, JoAnn Durante, for her contributions to local underrepresented children.
The moment also served as Durante's farewell.  "I'm retiring from the Bethlehem School District," Durante said, "but I'm never going to retire from the love that I have for kids. Our children are our most natural resource."
Durante alluded to a recent blockbuster movie, "The Help," to motivate students to be kind.
"You eventually will be beautiful for it, and you by far will become important."
Shelton reviewed the organization's history from the days it was founded 103 years ago under the leadership of W.E.B. DuBois. He emphasized the association's initial struggles to persuade Congress to sign an anti-lynching law during the early 1900s and the NAACP's battle to end racial segregation.
Those memories were painfully familiar to Esther Lee, president of the NAACP Bethlehem branch.
Lee, 78, remembered feeling angry as a 12-year-old when she tried to drink from a "whites only" water fountain in Virginia.
"Water is water," Lee remarked to her mother, as her mom pulled her away from the fountain.
After making it clear that the organization has had great obstacles, Shelton spoke about the pride he felt when the same legislative body that resisted the anti-lynching initiatives swore in Barack Obama as president.
"When he sat down at that table," Shelton said, "when he had been duly authorized by the great people of the United States of America to serve as the chief executive officer of our nation and he was able to sign those bills into law and provide that protection for all of our brother and sisters, I had to say that the tears began to well and I knew that America had stepped into a whole new generation."
Copyright © 2012, The Morning Call