Nationally:
The NAACP was founded in New York City in 1909 by an interracial group of prominent citizens who concerted efforts against the barbaric crime of lynching. The NAACP devoted their work to educate the American public to the horrors of mob violence through printed pamphlets and the CRISIS Magazine.
Locally:
The Bethlehem NAACP was founded in 1945 with Theodore Dennis as president. At this time meetings were held at the now defunct Colored Voters Association located in South Bethlehem on Brodhead Ave. (across from the Comfort Suites).
The Bethlehem Unit #2250, pursued inequalities with the same enthusiasm and concern as the National office.
For 65 years the Bethlehem Unit has survived the storms of injustice and has found great dignity and renewla of spirit in the constant fight for racial equality.
Today, Esther M. Lee, a civil rights activist and unit president, continues to fight with a main focus on education indifference and concern for today's youth.
Past Presidents:
Theodore Dennis
Booker Francis
Rev. R. Wakefield Roberts
Sampson Taylor
Pedro Boone, Esquire
Willard Howard, Sr.
Harold B. Pinckney
Ray Dickerson
Edward Williams
Dr. Wandalyn J. Enix
Lillie Brown
Fred Middleton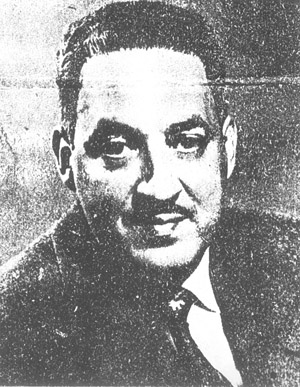 Thurgood Marshall was appointed as special counsel
in charge of all cases after joining the NAACP legal staff in
1936. He was the first black appointed to the Supreme Court.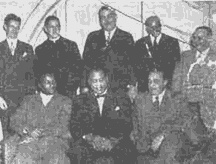 Paul Robeson Speaks at NAACP Banquet" (news article 1947)
(first row, l-r) Theodore Dennis, Paul Robeson, C. B. Newell,
Director, District 9  USA-CIO
(back row, l-r) Earl Keyser, President Easton NAACP,
Rev. Thomas A. Doran, Asst. Rector Holy Infancy Church, Edward
Prime, Program Chairman, Rev. John E. Hurley, Pastor, St. John's
AME Zion Church, and Joseph Long, City Controller, representing
Mayor Pfeifle.